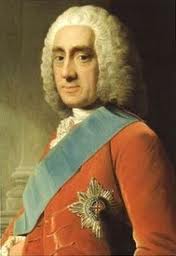 Lord Chesterfield
Philip Dormer Stanhope 4th Earl (1694-1773)
Son of Philip Stanhope, 3rd Earl of Chesterfield and Lady Elizabeth Savile. Born 22 September 1694. Educated at Trinity Hall, Cambridge, till the age of nineteen, in 1715 he became M.P. for St. Germans. Taking his seat before he was of age, he narrowly escaped a fine of £500. In 1715 he became Lord of the Bedchamber to the Prince of Wales and continued in this position when the Prince became King George II. In 1722 he became M.P. for Lostwithiel until, in 1723, he lost his seat on accepting office.
From 1728 until 1732 as Ambassador in The Hague, he distinguished himself by the magnificence of his entertainments. On 18 June 1730 he was installed as a Knight of The Garter. From 1730 till 1733 he was Lord Steward of the Household. From this time onwards he was a steady opponent of Walpole's ministry and, as a result, was excluded from office till 1744.
His dismissal from Court in 1733 was said not to have been his opposing Walpole but of having offended the Queen by paying court to Lady Suffolk, the King's mistress. Also in 1733 he married Melusina de Schulenberg, Countess of Walsingham, illegitimate daughter of King George I. He was about thirty-nine and she forty and no children were born from this union.
From January 1744 till October 1746 he was Lord Lieutenant of Ireland, then from October 1746 till February 1748 Secretary of State (North). He is the well-known author of the "Chesterfield's Letters" which were written to his illegitimate son. Dr. Johnson remarked that they "inculcated the morals of a Strumpet and the manners of a Dancing-master," and of the Earl himself that he was "a Wit among Lords and a Lord among Wits". In his seventy-ninth year he died "of a slow decay" at Chesterfield House on 24 March 1773. As he had no son, he was succeeded by a nephew as Earl of Chesterfield.