An American Woman Behaving Like A Beast
'Sex as hit-run man lay dying' The Sunday Mail, 10/3/2002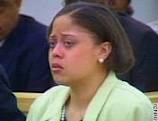 A NURSES aide appeared in court yesterday charged with the bizarre hit-and-run murder of a homeless man she left lodged, dying, in her windscreen for three days.
Her lawyer told the court she was not the "monster" police made her out to be, but a police source alleges the driver had sex as the man lay dying.
Chante Mallard, 25, confessed on Thursday that she had hit Gregory Glenn Biggs while driving home high on ecstasy and alcohol in October. Mallard, from Forth Worth, Texas, told police the pedestrian had passed through her windshield, leaving his broken legs protruding on to the bonnet of her Chevrolet. She had panicked, driven home and parked the car in her garage with Mr Biggs still trapped.
Mallard told police she went out to the garage several times over the next three days and apologised to Mr Biggs as he lay dying. But the person who tipped off police four months after Mr Biggs body was found dumped in a park said Mallard had giggled as she recounted the accident to friends.
The anonymous source said Mallard also recounted having sex with a friend at home as Mr Biggs lay dying. After the tip-off police found traces of Mr Biggs' blood on Mallard's car and in the garage.
"There's a pretty good possibility he'd be alive if he'd gotten help, but she concealed the body in the garage so that's why she's charged with murder," said police chief David Burgess. "With him pleading for help, and her saying, I'm sorry, I'm sorry . .. I'm sorry, words fail me. He finally bled out and died of shock."
Mr Biggs' son Brandon, 19, said his twice-divorced father had been a self-employed bricklayer who fell on hard financial times and became homeless. It had fallen to Brandon, a high school student, to make the funeral arrangements because his father had been estranged from the rest of the family. "I was the only one my dad talked to," he said.
Mallard was not required to enter a plea. Judge James Wilson remanded her in custody on $A500,000 bail. She faces five years to life if found guilty.
The case has horrified Americans. When $20,000 bail was set at an earlier hearing, the district attorney's office received dozens of outraged phone calls.
Mallard's lawyer Mike Heiskell said police were destroying his client's reputation before she had a chance to plead her case. He disputes the time it took Mr Biggs to die.
"She is not the monster that police and prosecutors are making her out to be," Mr Heiskell said. "She was simply a frightened, emotionally distraught young woman who had an accident, panicked and made a wrong choice."
Mr Heiskell said his client was guilty only of failing to stop and render aid. "This was an accident, pure and simple. She just made a bad choice."